Exposing Gutter Guard Myths
Gutter guards are one of the best investments you can make in your home's roofing system. Yet, many people have misconceptions of what they are, how they work and how reliable they are long term. These gutter guard myths may have discouraged you from investing in them before, but there are key reasons why you shouldn't go without these gutter protectors.
Take a look at these common myths associated with gutter guards and learn why they're wrong.
#1: You Don't Need Them if You Don't Have Trees
If your home has trees, the investment in gutter guards really makes sense and seems obvious. That doesn't mean you shouldn't have them if there are no trees on your property. It's not uncommon to see leaves in your gutters even if you and your neighbors don't have trees. That's because wind and storms can carry them significant distances.
Gutter guards do more than just keep the leaves out. They also help keep pests and critters from getting into your roof and attic areas. Insects, bees and birds quite commonly find very small areas to invade, especially at the roofline where the gutters and the roof meet. This can cause significant damage to the structure.
Having gutter guards in place can help minimize the risk of embers catching your home on fire and allowing it to spread rapidly. They also keep roof grit from your shingles from entering the gutters. This grit can become problematic when it collects.
#2: Gutter guards Require Getting New Gutters
That's not always the case. In fact, most gutter guards can be installed on virtually any existing system. It doesn't matter how old your roof is, the roofing material or the type of gutters you have. Newer styles of guards can be adapted to virtually any guttering system.
Ready to guard your home for good?
Now, it's true that some products sold are ineffective, too hard to install or just don't work as promised. Like any other product on the market, you can expect that to be the case. However, the right gutter guards made from high-quality materials work very effectively, virtually eliminating the need to ever climb a ladder to clean out your gutters.
What Makes the Real Difference?
How can some people claim gutter guards are ineffective when they're really beneficial? It comes down to what is installed on your home. We've seen it all, going back to 1996 when we were in the gutter cleaning business. After cleaning out millions of feet of gutter, we observed that no gutter guard was performing as promised. We realized that a reliable gutter protection solution was needed and incorporated in 2000. We explored new designs, the best materials, and doing what is best for customers to create what is now an extensive patent portfolio of the highest praised gutter guards available.
Here's what else you need to know about our products:
They block even the smallest debris from entering your gutters. Leaves, pine needles, seed pods, rodents, insects, and even fine roof grit can't get through.
They're made of aluminum and stainless steel. They'll perform year after year, withstanding whatever Mother Nature throws at them without warping, cracking, or rusting.
They're easy to maintain, significantly reducing the amount of time you spend managing your gutters.
We currently have 196,350 reviews and  counting from satisfied customers to back up our claims. That's real, authentic evidence that they work.
We promise not to let you fall prey to the common myths about gutter guards. Our promise includes industry-leading warranties that back up the quality and functionality of our products. We also promise to be there for you — if you have trouble with installation, we're happy to help.

Ready to Take the Next Step?
If you're handy and want to do the work yourself, our DIY products are an excellent option. You'll find them sold through all major retailers.
If you're not interested in installing gutter guards yourself, our DoneRight by Gutterglove program is an excellent choice. It allows you to find professionals in your area to install our pro products.
Ready to guard your home for good?
Spring Has Sprung, What's in YOUR Gutters? Spring brings out the green thumb in many of us, and the idea of starting a garden in
Read More »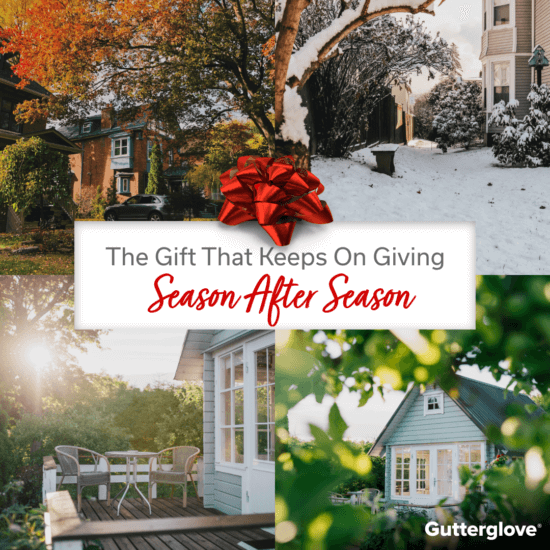 Give the Gift of Gutter Guards It's that magical time of year. The days are growing shorter, your heating bill is growing larger, and holiday
Read More »
Are You a DIYer or Would You Rather Call the Pro Installer? Gutter guards are a valuable addition to any home, but the installation can
Read More »